This is an archived article and the information in the article may be outdated. Please look at the time stamp on the story to see when it was last updated.
The nationwide outbreak of illnesses from eating romaine lettuce tainted with E. coli bacteria rose again, with 23 more cases reported in 13 states, the Centers for Disease Control and Prevention said Wednesday.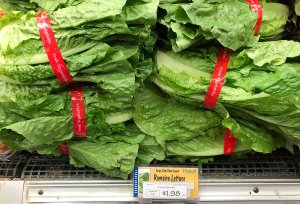 The 172 reported illnesses, which resulted in one death and 75 hospitalizations, have been traced to lettuce harvested in April in the winter lettuce region around Yuma, Ariz., according to the CDC.
Iowa, Nebraska and Oregon newly joined the list of 39 states that have reported illnesses linked to romaine lettuce.
The CDC and Food and Drug Administration have struggled for more than a month to pinpoint a source for the contamination, which became evident in early April. No recall was issued.
Read the full story on LATimes.com.