This is an archived article and the information in the article may be outdated. Please look at the time stamp on the story to see when it was last updated.
Nearly two months after pizza chain Papa John's apologized for comments its CEO made about NFL players' pre-game national anthem protests, the company announced that the chief executive is being replaced.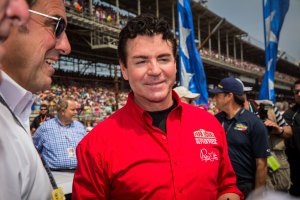 John Schnatter, the founder and CEO of Papa John's, will be replaced with Steve Ritchie, the company's current president and former chief operating officer.
A news release from the company announced Ritchie's promotion, effective Jan. 1. Schnatter, who appears in company commercials, will remain as chairman of the board.
"In his duties as Chairman and founder, Schnatter will continue to champion the core principles that led to recognition as the industry leader in product quality and customer satisfaction," the release stated. "He will also pursue his personal passion for entrepreneurship, leadership development and education."
Schnatter, who started the company in 1994, said he was "so proud of" Ritchie, who is 43.
Schnatter drew attention – and support from white supremacists – after saying in November that Papa John's sales were in a slump because the NFL had not addressed players' protests, which were intended to draw attention to police violence and racial injustice.
"This should have been nipped in the bud a year and a half ago," Schnatter said during a Nov. 1 company earnings conference call. "The controversy is polarizing the customer, polarizing the country."
Backlash was swift on social media, and late-night comics lampooned Schnatter. Then the white supremacist website Daily Stormer suggested that Papa John's be considered the "official pizza of the alt-right."
Nearly two weeks later, Papa John's apologized in a statement on Twitter, and a spokesman further said the company condemns "racism in all forms and any and all hate groups that support it."
"We do not want these individuals or groups to buy our pizza," the spokesman said.
The chain, based outside Louisville, Kentucky, says it is the third-largest pizza delivery company in the world, with some 5,000 locations. It has been a sponsor of the NFL since 2010, according to CNN.
Papa John's has faced waning sales recently and its stock price is down more than 30 percent so far this year.
Ritchie first started at Papa John's as a customer service representative – making $6 per hour – in 1996, the company said. He became a Papa John's franchise owner and operator in 2006.
The statements made on our earnings call were describing the factors that impact our business and we sincerely apologize to anyone that thought they were divisive. That definitely was not our intention. (1/3)

— Papa John's Pizza (@PapaJohns) November 15, 2017