This is an archived article and the information in the article may be outdated. Please look at the time stamp on the story to see when it was last updated.
Parents and students from the site of the nation's latest mass shooting met Wednesday with survivors of the 2016 Pulse nightclub massacre in Orlando, Florida.
The group from Marjory Stoneman Douglas High School in Parkland stopped in Orlando while returning home from Tallahassee after advocating for stronger gun control laws, CNN affiliate WESH reported.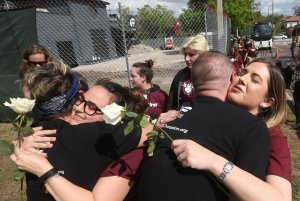 They gathered outside the nightclub where 49 people were gunned down almost two years ago, the Orlando Sentinel reported.
"We're all family," Neema Bahrami, who worked as an event manager at Pulse, told the newspaper.
Orlando's mayor, also in attendance, echoed the sentiment.
"We share their grief and their concern," said Mayor Buddy Dyer, CNN affiliate WKMG reported. "Two years ago, the entire world reached out to us in here in Orlando with thoughts and prayers. We want to pay that back as much as we can."
A gunman killed 14 students and three teachers at Stoneman Douglas on Feb. 14. The Parkland families left 49 flowers Wednesday at the former Pulse site — which will become a permanent memorial and museum — remembering those who died in that shooting, WESH reported.
They stood together as the names of the 66 victims of both mass shootings were read aloud, according to WKMG.
The emotional meeting came on the eve of jury selection in the trial of the Pulse shooter's widow. Noor Salman is accused of aiding and abetting her husband Omar Mateen's material support to ISIS, as well as obstruction of justice for allegedly misleading law enforcement agents investigating the massacre on June 12, 2016.
She was arrested months after Mateen opened fire inside the gay club, with a semiautomatic rifle, killing 49 and injuring more than 50 others. Mateen barricaded himself in a bathroom at the nightclub and was killed in a shootout with police.
Salman has pleaded not guilty.
Attorney Linda Moreno of Tampa has denied her client knew anything about what her husband planned to do. Moreno described a wife who had endured her husband's abuse.
Authorities believe Salman acted of her own free will and knowingly took steps to obstruct the investigation, a law enforcement official told CNN.
Orlando attorney and former CNN legal analyst Mark O'Mara said several factors will make it challenging to seat a jury.
"It is going to be amazingly difficult to seat a jury in this case because not only do the potential jurors live in central Florida, but we have had an enormous backlash against terrorist acts in the past 17 years since 2001, and this case, like the Boston Marathon case will be felt as an opportunity to right those wrongs," O'Mara said. "The defense has to acknowledge that everybody sitting on that jury is going to feel that. And they have to do their best to bring all of that out to the forefront."