This is an archived article and the information in the article may be outdated. Please look at the time stamp on the story to see when it was last updated.
Two patrol vehicles were swarmed after a big-rig carrying many thousands of bees overturned on an Oklahoma interstate Tuesday afternoon, making for remarkable photos and video captured by a deputy inside one of the vehicles.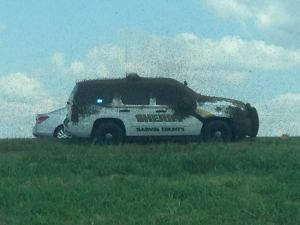 The crash was reported about 12:45 p.m. on Interstate 35 in Pauls Valley, about 50 miles south of Oklahoma City, according to KTLA sister station KFOR.
"Bees are loose along the interstate," the Oklahoma Highway Patrol wrote on Twitter.
Deputy Carl Zink of the Garvin County Sheriff's Office was called to the scene and saw his patrol vehicle swarmed. He posted video and photos of the strange sight on Facebook.
He received only one sting, the Sheriff's Office said in a news release.
Zink was assisting with traffic control "when his unit became disabled at the accident scene due to the bees covering the windows," the Sheriff's Office said.
Zink's social media posts drew significant attention to the crash, the news release noted. One of his videos was shared more than 1,400 times in 3 1/2 hours.
A Highway Patrol vehicle was also swarmed, KOCO reported.