This is an archived article and the information in the article may be outdated. Please look at the time stamp on the story to see when it was last updated.
Patty Duke, the actress who won fame with her stage and screen portrayals of Helen Keller in "The Miracle Worker," died Tuesday, according to her agent. She was 69.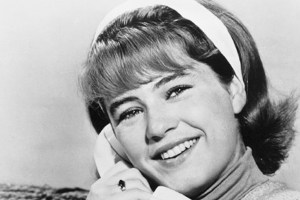 Duke died of sepsis from a ruptured intestine, according to a statement from Mitchell K. Stubbs & Associates, the agency that represented her.
"She was a wife, a mother, a grandmother, a friend, a mental health advocate and a cultural icon. She will be missed," the agency said.
Duke won a best supporting actress Academy Award in 1963 for "The Miracle Worker."
She also was known for roles in "Valley of the Dolls," "My Sweet Charlie" and "Me, Natalie," as well as for TV's "The Patty Duke Show," which aired from 1963 to 1966.
Duke also struggled with mental illness, having been diagnosed with bipolar disorder in 1982.
"I don't mind being thought of as someone who was crazy, because I had no control over that situation," she wrote in her 1988 autobiography, "Call Me Anna." "What I don't like is for people to believe I chose to do destructive things."
In the last half of her life, Duke became an advocate on mental health issues, writing a book in 1992 highlighting bipolar disorder and its treatments and using her fame to fight for others struggling with the disease.
She was born Anna Marie Duke on December 14, 1946, in Elmhurst, New York, and began acting as a child.
Her first major role came in 1959, when she portrayed the blind and deaf Keller on Broadway. The success of that two-year run led to her playing the same part in the 1962 film version of "The Miracle Worker," for which she won an Oscar and a Golden Globe.
"The Patty Duke Show" followed for three years. Duke played the twin roles of English and American cousins living in New York.
In 1967, she starred in "Valley of the Dolls," followed by "Me, Natalie," an independent film that netted her a second Golden Globe award.
She returned to Keller's story in 1979 for a television movie in which she played Keller's teacher, Annie Sullivan. The project brought her third Emmy; she had previously won for the 1970 TV movie "My Sweet Charlie" and the 1976 miniseries "Captains and Kings."
She then served as president of the Screen Actors Guild from 1985 to 1988.
Actress Holly Robinson Peete was among the many paying tribute to Duke, calling her a "legendary actor" and "eloquent humanitarian."
Actress Marlee Matlin called Duke "brave, outspoken & humanitarian."
Duke was married four times, including a 13-year marriage to actor John Astin, best known for his role on "The Addams Family."
Her son Sean Astin appeared in the "Lord of the Rings" movies. A second son, Mackenzie Astin, is also an actor. She adopted another son, Kevin, in 1989 with her fourth husband, Michael Pearce.
Her last tweet came on their anniversary, March 15: "30 years ago today, Mike and I married. We having a very happy and quiet day. Love and hugs to all."