This is an archived article and the information in the article may be outdated. Please look at the time stamp on the story to see when it was last updated.
A tractor trailer barreled into a crowded Christmas market in Berlin on Monday night, killing 12 people and injuring 48 others. Witnesses said shoppers screamed and dropped packages and glasses of mulled wine as the truck plowed into the market.
Officials are investigating the crash as an act of terrorism, according to a German intelligence official familiar with the matter.
Authorities have apprehended the suspected driver, according to a police spokesman. Another person who was in the truck died at the scene, police tweeted.
Some of the 48 people in the hospital have serious injuries, Berlin police tweeted.
The crash occurred at Breitscheidplatz in the western part of central Berlin. The truck had Polish license plates, police spokeswoman Kerstin Ziesmer said.
Ariel Zurawski, owner of the truck company, told TVN 24, a private Polish television news network and CNN affiliate, the truck, carrying a steel shipment, may have been hijacked.
Zurawski said his cousin — the truck's regular driver — couldn't have been behind the wheel and wasn't the man who ran from the scene.
"My scenario is that they did something to him and hijacked this truck," he said.
Witness Emma Rushton told CNN that the truck didn't slow down. She said the truck was traveling about 40 mph through the crowded pedestrian area.
"There's no way it was an accident," Rushton said. "We saw at least 10 people" injured and lying on the ground.
Another witness, Shandana Durrani, was 20 feet away from the truck when it rammed several market stalls
"I think everybody thought there was a terrorist attack happening," she said. "People dropped what they were carrying and ran for cover. … It seemed like the truck just jumped the curb and took a wrong turn and barreled through the crowd."
Durrani, an American who moved to Berlin a few months ago, said slowing to respond to a text message "saved me from being hit."
Trucks used as weapons of terror
While it was unclear whether the crash was an accident or an act of terrorism, it triggered memories of the use of trucks in attacks.
Julian Reichelt, editor in chief at German tabloid Bild, told CNN the incident "looks like something that was adapted by Nice," referring to the Bastille Day truck attack in France that killed 86 people and injured more than 200 in July.
Terror groups have used the Internet to encourage followers in the West to use vehicles to stage attacks, according to CNN national security analyst Peter Bergen.
Al Qaeda's Yemeni branch encouraged its recruits in the West in its 2010 webzine, Inspire, to use the trucks as a weapon in an article headlined "The Ultimate Mowing Machine," Bergen wrote.
In September 2014, an ISIS spokesman similarly encouraged such attacks, saying of ISIS' enemies, "Run him over with your car," according to Bergen.
Last month, an attacker who investigators believe was inspired by ISIS used a car and a knife as weapons to injure 11 at the Ohio State University.
U.S. State Department warning
German officials have been concerned about security around Christmas markets, which are the main place for holiday shopping and refreshments, such as the mulled beverage Gluhwein.
The US State Department alerted US citizens in November to the heightened risk of terrorist attacks throughout Europe, especially during the holiday season. The alert, which encouraged citizens to be cautious at the holiday festivals, expires on February 20.
Reichelt told CNN that the market would be busy every night of the week leading up to Christmas.
The market at Kaiser Wilhelm Memorial Church has existed for 33 years, according to the Visit Berlin website. The stands offer delights such as handmade crafts, "sweet waffles, candied fruit and nuts crafts."
In a statement, German Foreign Minister Frank-Walter Steinmeier said he was "deeply shaken by the awful news."
The White House said the United States "condemns in the strongest terms what appears to have been a terrorist attack."
US President-elect Donald Trump offered his condolences to the victims.
"Innocent civilians were murdered in the streets as they prepared to celebrate the Christmas holiday," Trump said in a statement. "ISIS and other Islamist terrorists continually slaughter Christians in their communities and places of worship as part of their global jihad."
Germany's deadly year
The incident in Berlin is the latest in a string of attacks in Germany over the past 12 months.
July 2016
On July 24, a Syrian suicide bomber injured 15 people in an attack on a music festival in Ansbach. He left behind a video pledging allegiance to ISIS.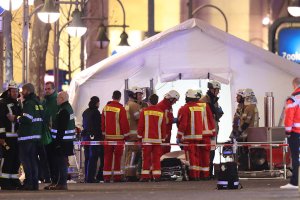 Days earlier, nine people were killed in Munich by an 18-year-old gunman with dual German and Iranian nationality. The gunman committed suicide. His motives were unclear.
Four days prior to that, an immigrant teen, apparently inspired by ISIS, stabbed five passengers on a train in Bavaria. Police shot the teenager, an Afghan refugee who was armed with a knife and an ax.
June 2016
Three Syrian men were arrested in June on suspicion of planning a terror attack on Dusseldorf on behalf of ISIS.
May 2016
A German man killed one person and injured three others in a May knife attack at a train station in Bavaria. Witnesses told police the attacker had shouted out "Allahu akbar" and "Infidels must die" as he carried out the attacks. But intelligence services said they knew of no link between him and Islamist networks.
December 31, 2015
On New Year's Eve 2015, two train stations in Munich were evacuated and train service stopped among concerns of a possible terror plot. The planned suicide attacks were reported to be connected to ISIS, officials said.