This is an archived article and the information in the article may be outdated. Please look at the time stamp on the story to see when it was last updated.
An online petition calling for the deportation of Canadian-born pop star Justin Bieber on an official White House petition website has hit 100,000 signatures, the threshold required for a response from the Obama administration.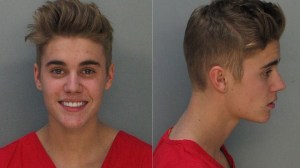 Nearly 200,000 people had signed the petition on the We the People site, which was titled "Deport Justin Bieber and revoke his green card," as of Thursday morning.
Petitions have 30 days to receive at least 100,000 signatures in order to get a response, according to the website's guidelines.
The petition was created Jan. 23, the same day the 19-year-old was arrested in Miami Beach for an alleged DUI. Bieber was charged with drunken driving, resisting arrest and driving without a valid license after he was was pulled over for allegedly street racing, Miami Beach police officials said.
The Los Angeles County Sheriff's Department was also investigating Bieber for allegedly egging a neighbor's home in Calabasas. The case was classified as a felony because the amount of damage done to the home totaled more than $950, according to the Sheriff's Department.
"We the people of the United States feel that we are being wrongly represented in the world of pop culture," the petition read. "We would like to see the dangerous, reckless, destructive, and drug abusing, Justin Bieber deported and his green card revoked. He is not only threatening the safety of our people but he is also a terrible influence on our nations youth. We the people would like to remove Justin Bieber from our society."
Another petition on the site asking the Obama administration to deport Bieber had amassed more than 23,000 signatures as of Thursday morning.
Three other petitions have urged the White House to disregard the petitions to deport Bieber and allow him to stay in the country.
The most successful of the pro-Bieber petitions — titled "Stop Justin Bieber from getting deported. He is a human being and he makes mistakes. He does not deserve this." — had garnered more than 3,000 signatures as of Thursday morning. That petition must get more than 96,000 signatures before Feb. 24 in order for it to be considered by the White House.
The site did not have any formal guideline for how long it has to respond to petitions that successfully get 100,000 signatures.
"We will do our best to respond to petitions that cross the signature threshold in a timely fashion," the website's guidelines stated. "However, depending on the topic and the overall volume of petitions from We the People, responses may be delayed."