This is an archived article and the information in the article may be outdated. Please look at the time stamp on the story to see when it was last updated.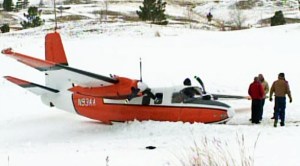 BROOMFIELD, COLORADO — A snow-covered golf course turned into an emergency landing strip on Friday (Mar. 1) for a small plane in trouble.
The plane had just taken off from a nearby airport when it lost power in both engines.
The pilot turned and set it down safely on the course at the Omni Interlocken Resort golf club.
The plane sustained some damage, but both men on board were able to walk away.
The director of the golf course said that although this was a first for them, they had prepared an emergency plan for exactly such situations.
Such preparations had seemed prudent since the golf course is located less than two miles from the airport.