This is an archived article and the information in the article may be outdated. Please look at the time stamp on the story to see when it was last updated.
An 8-week-old polar bear being hand-reared at Ohio's Columbus Zoo appears to be doing well after being abandoned by her mother, zoo officials stated.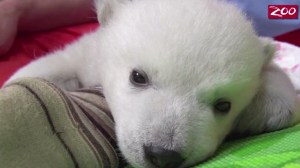 The cub's mother stopped caring for her about a week after she was born on Nov. 6, according to staff members who decided to remove the cub from the den and hand-rear her instead, CNN reported Friday.
Video released by the zoo last week shows the cub drinking from bottles and sleeping on top of a stuffed polar bear doll.
The cub weighed a little over 6 pounds and measured a little more than 17 inches long.
Zoo officials said they were pleased with the cub's progress, but were taking things day by day.