This is an archived article and the information in the article may be outdated. Please look at the time stamp on the story to see when it was last updated.
A woman set up a date at a Lynnwood, Washington motel Sunday night with the intent of killing a man she met online and eating his heart, according to a police report obtained by KTLA sister station KCPQ in Seattle.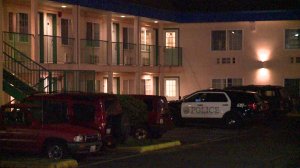 Police arrested the suspect, identified as 24-year-old Amy Caroline Brown of Edmonds, on suspicion of first-degree attempted murder after she allegedly stabbed the 29-year-old victim in the chest, the document stated.
The victim, who police met at a nearby Walgreen's after receiving a 911 call, told Lynnwood police officers he had met Brown on Craigslist through a post seeking "friendship and possibly dating purposes," but not sex, according to the Snohomish County Superform.
After meeting in person, the pair ended up booking a room at the Rodeo Inn on Highway 99 in Lynnwood, which he paid for, the document read.
The victim told police they were lying on the bed when Brown asked him multiple times whether he was a serial killer. He responded "No," and then she climbed on top of him and said, "Well I am a serial killer" as she grabbed a pocket knife, according to the document.
Brown then allegedly stabbed him in the chest, according to police, before he eventually broke free, got out of the room and called for help.
He said there had been no argument or altercation before she attacked him.
Police found the suspect in the parking lot and detained her. A knife was found her in pocket, according to the document.
During an interview with police, Brown allegedly told an officer, "I'm a loon," and said planned to stab the victim to death.
"She was extremely emotionless when she spoke to me about attempting to kill (the victim). At one point throughout the conversation, she was more concerned with missing work the following day than facing the possible consequences of an aggravated assault," the officer stated in the form.
The woman admitted to the officer who first detained her that said planned to eat the victim's heart after she killed him, according to police. She also said she aspired to become a "serial killer," and had already written a note to leave on his body explaining her plan to kill again, according to the document.
A judge on Tuesday set bail at $1 million, KCPQ reported.
The victim was hospitalized for his injuries.