This is an archived article and the information in the article may be outdated. Please look at the time stamp on the story to see when it was last updated.
VATICAN CITY (CNN) — Pope Benedict XVI led tens of thousands in a prayer for strength Sunday and thanked followers for their support during his second-to-last Angelus prayer as pontiff.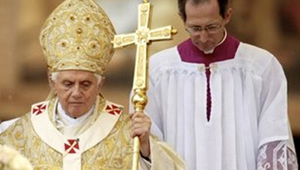 "Today we contemplate Christ in the desert, fasting, praying, and being tempted," the pope said to an unusually large crowd at St. Peter's Square in Vatican City.
"As we begin our Lenten journey, we join him and we ask him to give us strength to fight our weaknesses. Let me also thank you for the prayers and support you have shown me in these days. May God bless all of you!"
Benedict, 85, shocked millions across the world last week when he announced his intention to stand down at the end of the month, citing the frailty of old age.
The decision makes him the first pope to step down in nearly 600 years.
Referring Sunday to a Bible passage, the pope said, "During the decisive moments of our lives, and in fact at every moment, we are in front of a crossroads: Do we want to follow the I or God? The individual interest or the true good, that which really is the good?"
The crowd appeared to have about 100,000 people
He also tweeted a message to followers worldwide, calling on them to "rediscover faith" as a foundation.
Cardinals may meet before March 15 to choose the next pope if they are all in Rome, a Vatican spokesman said Saturday. The conclave will bring together the 117 cardinals of the Roman Catholic Church.