This is an archived article and the information in the article may be outdated. Please look at the time stamp on the story to see when it was last updated.
The Pope is jumping on the Instagram bandwagon.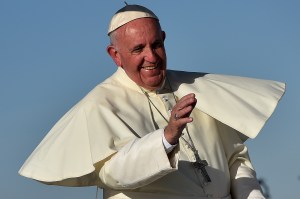 Starting on Saturday you'll be able to find him on Instagram under the name "Franciscus," according to the Vatican's official communication department.
This comes just weeks after Pope Francis met Instagram CEO Kevin Systrom.
They discussed "the power of images to unite people across different cultures and languages," according to a post on Systrom's account.
Pope Francis and the Vatican have gravitated to social media and used various platforms to maintain contact and communicate with Catholics around the world.
The move is one of several changes the current pope has brought about to make himself more personable and approachable.
The Official Vatican Network maintains accounts on Facebook, Twitter and Instagram. But Pope Francis only has a personal Twitter account.
Systrom co-founded Instagram, which launched in October 2010. Instagram was then acquired by Facebook in 2012. It currently has hundreds of millions of users, including supermodels and celebrities.