This is an archived article and the information in the article may be outdated. Please look at the time stamp on the story to see when it was last updated.
Saturday night's Powerball jackpot was going to be a big one.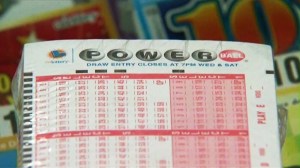 At an estimated $380 million, the drawing was worth the most amount of money in nearly a year and was the sixth largest in the game's history, California lottery officials said.
The jackpot had initially climbed to $360 million after no tickets matched all six numbers in Wednesday night's drawing.
But by late Friday morning, the number had increased again by $20 million to $380 million, according to a California Lottery news release.
If anyone wins Saturday's massive jackpot, the lucky person would have the option to take an estimated one-time payment of $256.8, the release stated.
The latest Powerball jackpot is worth the most since the drawing on Feb. 19, 2014, when a Northern California man matched all six numbers to claim the massive $425.3 million prize.
Powerball is played in California and 43 other states, along with Washington D.C.,  Puerto Rico and the U.S. Virgin Islands.
Tickets can be purchased for $2 apiece from any of the 21,000 participating California Lottery or Lottery Lucky retailers in the state, according to the state lottery release.
The drawing was set to take place at 7:59 p.m. PT.