This is an archived article and the information in the article may be outdated. Please look at the time stamp on the story to see when it was last updated.
One Powerball ticket sold in Pennsylvania has matched all six numbers.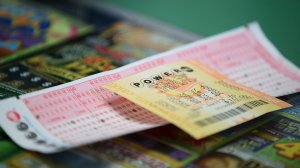 The single winning ticket is worth $456.7 million -- the eighth-largest pot in the game's history, officials said in a statement.
The winning numbers for the jackpot Saturday were: 22-57-59-60-66, and Powerball 7.
"The ticket matched all five white balls and the Powerball to win the jackpot worth an estimated $456.7 million; $273.9 million cash value," Powerball said.
Three other tickets -- sold in California, Missouri and Texas -- matched all five white balls in the drawing.
The California ticket was worth $1.2 million and sold at Ed's Liquor Store in Santa Monica, the store's manager, Cuco Escobedo, confirmed.
The ticket sold in Texas won a $2 million prize because it included a Power Play option, it said.
The odds of winning Powerball are 1 in 292.2 million.