This is an archived article and the information in the article may be outdated. Please look at the time stamp on the story to see when it was last updated.
Millions played and prayed.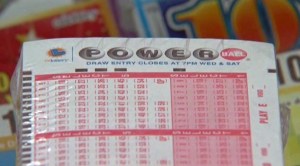 And they hoped they got the six life-changing numbers: 5, 10, 21, 34, 58 and the powerball, 33.
While lottery officials released those winning numbers, it's unclear whether anyone won the $394 million Powerball jackpot -- among the largest ever. Lottery officials said "results were pending" early Sunday.
And so we wait.
Meanwhile, here's some mathematical reality: you won't win.
We know, we know -- someone may get at least a share of the prize. If not this one, then in a subsequent drawing.
Chances of it being you? Virtually nonexistent.
The chance of a ticket winning a Powerball jackpot is 1 in 175,223,510. You have a better chance of becoming an astronaut, dating a supermodel -- maybe even being attacked by a shark or struck by lightning -- simultaneously.
But hey, dream on!
We will, too.