This is an archived article and the information in the article may be outdated. Please look at the time stamp on the story to see when it was last updated.
A woman believed to be Carrie Bradshaw-Crowther, a pregnant woman from North Carolina who went missing on the day her caesarean section was scheduled, has been found, authorities said Monday.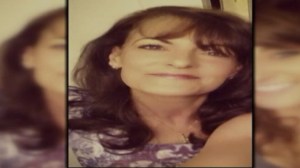 The Watauga County Sheriff's Office confirmed Bradshaw-Crowther was found.
Family members — who are heading to the city of Boone, where the woman was spotted — also confirmed to WSOC, a television station in Charlotte, that she has been found.
Deputies said a van spotted in Boone matches the description of Bradshaw-Crowther's. The driver was reportedly being taken to the hospital for evaluation.
Deputies said the woman used an ATM card Monday at a CVS in Boone, and officials found her at a gas station a short time later. The Salisbury Police Department confirmed to WSOC the woman was Bradshaw-Crowther.
Police had obtained surveillance images showing Bradshaw-Crowther the last time she was spotted at a Shell gas station in Statesville on Wednesday. They hoped the photos would draw more leads as to her whereabouts.
The images show the 5-foot-7-inch, 49-year-old woman wearing a blue jacket with her brown hair braided.
Bradshaw-Crowther's daughter had told WSOC her mother vanished Tuesday, when she was set to deliver her baby via C-section.
IMAGES from @GoBlueRidge – believed to be missing #Salisbury pregnant woman in #Boone – http://t.co/g9LauxKOxO pic.twitter.com/DH3ULJguQQ

— WSOCTV (@wsoctv) June 8, 2015
Just spoke to sister of missing woman Carrie Crowther. She's heading to Boone now after hearing reports her sister was found. @wsoctv

— Trish Williford (@TrishWCCB) June 8, 2015
Breaking Watauga- sheriff just confirmed van spotted in Boone matches description of missing pregnant woman from Salisbury

— Dave Faherty (@FahertyWSOC9) June 8, 2015