This is an archived article and the information in the article may be outdated. Please look at the time stamp on the story to see when it was last updated.
A powerful earthquake measuring a preliminary magnitude of 6.8 shook central Myanmar, also known as Burma, on Wednesday, knocking glasses off tables and sending people running out of buildings in the country's largest city.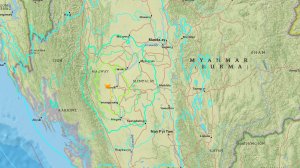 The U.S. Geological Survey said the quake was centered about 15 miles west of Chauk, an area west of the ancient capital of Bagan. It was located fairly far below the surface at a depth of about 52 miles, it said. Deep earthquakes generally cause less surface damage.
Worried residents of Yangon, the country's main city that's also known as Rangoon, rushed out of tall buildings, and objects toppled from tables and from Buddhist shrines in homes. However, there were no immediate reports of serious damage in the city.
The USGS said some casualties and damage were possible, but the impact was likely to be fairly localized.