This is an archived article and the information in the article may be outdated. Please look at the time stamp on the story to see when it was last updated.
A 6.9-magnitude earthquake struck off Japan's Honshu island on Tuesday, triggering tsunami waves and bringing back traumatic memories for locals of the devastating 2011 Fukushima disaster.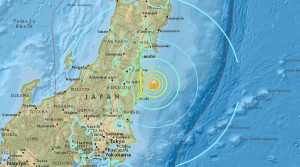 Residents in Fukushima Prefecture braced for the worst after a tsunami warning was issued early Tuesday morning — along the same stretch of coast devastated by enormous waves five years ago.
In 2011, a 9.0-magnitude earthquake — one of the worst ever to hit Japan — killed more than 20,000 people and caused tsunamis of up to 40 feet which swamped the Fukushima Daiichi nuclear power plant, triggering a nuclear meltdown.
'I thought something terrible might happen'
Tuesday's quake struck close to the epicenter of the 2011 quake, just 23 miles east-southeast of Namie at a depth of 7 miles.
The quake triggered a tsunami warning in Japan's Fukushima and Miyagi Prefectures, causing the government to urge thousands to seek higher ground amid warnings waves could be up to 10 feet high.
Speaking to Japanese public broadcaster NHK, residents from the Fukushima and Ibaraki prefectures said they had immediately feared the worst when they felt the earthquake strike.
"I felt a strong shaking, but it was weaker than the earthquake in 2011," a Fukushima prefecture man told NHK. "I thought something terrible might happen, so I tried to escape to higher ground right away."
In Ibaraki Prefecture one woman said she didn't feel she could drop her guard after the earthquake and was still praying for minimal damage.
However, hours later, the warnings were dropped. Three people were injured, police told CNN, while more than 1,900 homes briefly lost power.
Cooling system briefly down at nuclear plant
One of the prime concerns on Tuesday was the crippled Fukushima Daiichi nuclear power plant, which suffered a catastrophic meltdown in 2011.
An exclusion zone still exists around the site where radiation levels are considered too toxic for humans.
At its neighboring sister plant, Fukushima Daini, a cooling pump system which had been keeping the spent nuclear pool at safe temperatures stopped briefly after Tuesday's quake, a spokesman for the Tokyo Electric Power Company Inc. (TEPCO) told CNN.
No abnormalities or change in radiation levels were reported, and operations have resumed.
USGS geophysicist Jessica Turner told CNN the earthquake had been much smaller than the disaster five years ago.
"It is much smaller in magnitude and energy release than the 9.0-magnitude that occurred in March of 2011 … we can expect to see aftershocks for the next several days (but) it's hard to predict," she said.
Eight aftershocks of at least magnitude 5.4 were recorded within five hours of the initial quake.
The legacy of Fukushima
The 2011 quake, just slightly north of Tuesday's temblor, was so severe it moved Japan's coast 8 feet and shifted the Earth's axis, ranking among the costliest natural disasters on record.
More than 200,000 residents were evacuated from the surrounding area in 2011 and of those tens of thousands still live in temporary housing, unable to return home.
TEPCO has estimated that the cleanup from the nuclear disaster at Fukushima could take 40 years.
University of Sydney Disaster Risk Management Expert Dale Dominey-Howes told CNN Tuesday's earthquake would be devastating for the mental health of survivors still recovering from the 2011 event.
"The simple reality is that the survivors from 2011 haven't gone back to normal, they're basically living as displaced people in camps in various locations around central Japan," he said.
"So today's earthquake and tsunami basically catapults people back into the moments of the 2011 disaster, all that emotion and pain … Survivors will experience the trauma all over again."
2011 quake '1,000 time more powerful'
Earthquakes are common in Japan. The most recent was a 6.2 magnitude in late October near Kurayoshi, a city to the west of Osaka, which caused a handful of injuries.
Speaking to CNN, Geoscience Australia Senior Duty Seismologist Hugh Glanville said while the 2011 earthquake had only been two degrees of magnitude higher than Tuesday's, a quake's impact increased logarithmically for every point of magnitude.
"Given the one in 2011 was magnitude 9.0, it was about 1,000 times more powerful than the energy release of this earthquake. For each (degree of) magnitude you go up, it is 32 times the energy of the previous one," he said.
Glanville said it was possible some aftershocks could be stronger than the original earthquake, possibly about magnitude 7.0.