This is an archived article and the information in the article may be outdated. Please look at the time stamp on the story to see when it was last updated.
When the President-elect speaks, people listen — and governments, businesses and ordinary citizens scramble to parse, interpret and, given his power, make snap decisions about how to act and respond.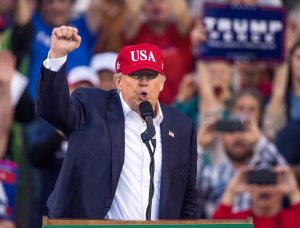 The post-election, pre-presidential Donald Trump has used social media with the same abandon as his campaign self — yes, to get his message out, unfiltered by the media he loathes, but also as a bludgeon against critics, a tool for disseminating misinformation and, as he nears the inaugural, and an outlet for breeding confusion in business and international relations, purposefully or not.
Trump has on multiple occasions since Election Day stepped awkwardly, Twitter app open and eyes closed, into a series of foreign and domestic blunders with seemingly haphazard flicks of his smartphone.
Jumping the gun …
"Today there were terror attacks in Turkey, Switzerland and Germany — and it is only getting worse," Trump tweeted on Monday evening. "The civilized world must change thinking!"
In a press release, he also described the man who gunned down the Russian ambassador to Turkey as a "radical Islamic terrorist."
Trump's response was, if not wrong, obviously premature. In Berlin, especially, the suspect who drove a truck into a Christmas market remains at large. Authorities do not know who was responsible, nor what group if any backed or inspired the assault — even as ISIS makes a claim of responsibility.
… And getting it wrong
In Switzerland, police have announced that the alleged gunman, who wounded three men praying inside a Zurich mosque, was Swiss and had no known links to terror groups. They do not consider the attack to be terror-related.
Muddying the waters
Trump has dismissed reports that Russian hackers, acting on orders from Moscow, sought to aid his campaign. It is unclear what the President-elect knows about the intelligence — which was leaked to reporters and suggests Russian President Vladimir Putin backed the efforts.
But even as Trump allies and some opponents note that the CIA and intelligence community have been wrong before, Twitter Trump has gone a step further, attempting to rewrite election history.
"If Russia, or some other entity, was hacking, why did the White House wait so long to act?," he asked in a tweet last week. "Why did they only complain after Hillary lost?"
This claim was demonstrably false. The White House attributed the hacks to Russia in October, well before voters went the polls, and allowed — as far back as this summer — for the possibility that Moscow was seeking to damage Clinton.
Claiming he did it when he didn't
On the evening of November 17, Trump celebrated his purported role in what he described as a fresh decision by Ford not to move jobs from Kentucky to Mexico.
"I worked hard with Bill Ford to keep the Lincoln plant in Kentucky," he wrote. "I owed it to the great State of Kentucky for their confidence in me!"
But Trump's telling left out a key piece of information: Ford said it never had plans to move the jobs from the plant and, in a legally binding contract with the United Auto Workers union, guaranteed last year that it would spend $700 million to boost the same facility.
"Today, we confirmed with the President-elect that our small Lincoln utility vehicle made at the Louisville Assembly Plant will stay in Kentucky," Ford said in a statement after Trump's tweet set off a debate over the initial plan.
Mixed messages abroad
Earlier this month, Trump broke with decades of US-Chinese diplomatic protocol when he spoke directly to Taiwanese President Tsai Ing-wen.
Trump responded on Twitter to the resulting confusion by noting that Tsai had "CALLED ME" to offer her congratulations. When that failed to quiet the uproar, he poked at a sore spot in US relations with China by tweeting, "Interesting how the U.S. sells Taiwan billions of dollars of military equipment but I should not accept a congratulatory call."
Trump used the lingering conflict as fodder for a Twitter debate, then two days later attempted to turn the tables by criticizing the Chinese for currency manipulation and their activities in the contested South China Sea.
"Did China ask us if it was OK to devalue their currency (making it hard for our companies to compete), heavily tax our products going into their country (the U.S. doesn't tax them)," he tweeted, "or to build a massive military complex in the middle of the South China Sea? I don't think so!"
Undermining relations
Less than two weeks later, the Twitter war was back on.
Trump responded to reports that the Chinese had seized a US underwater drone in international waters by declaring in a tweet, "China steals United States Navy research drone in international waters — rips it out of water and takes it to China in unprecedented act."
Even as the dispute was being peaceably resolved by Washington and Beijing, a Chinese Ministry of Foreign Affairs spokesperson took issue with the President-elect's choice of words, saying, "I want to say we strongly dislike the term 'steal' as it's entirely inaccurate."
The dispute all but settled, Trump tweeted again, using similar language but this time to suggest the US should walk away from the deal. "We should tell China that we don't want the drone they stole back," he wrote, "let them keep it!"
The Chinese returned the drone on Tuesday.
Spreading falsehoods
Trump repeatedly stoked conspiracy theories during the campaign, using his social media megaphone to amplify misinformation and fake news. The pattern has continued apace during his transition. In late November, as news of a Jill Stein-led recount effort got headlines, Trump fired back.
First he took on the Green Party candidate, but then, attempting to explain away his nearly 3 million vote loss in the national popular vote to Hillary Clinton, Trump falsely claimed "millions" of her supporters had cast bogus ballots.
"In addition to winning the Electoral College in a landslide," he tweeted, "I won the popular vote if you deduct the millions of people who voted illegally."
Trump offered no evidence to back his claim because there wasn't any. An in-depth report this week in The New York Times was headlined: "All This Talk of Voter Fraud? Across U.S., Officials Found Next to None."
Breaking protocol, even with allies
In late November, Trump offered some unsolicited advice to the British government, marrying a preferred rhetorical device with his favorite medium to unsuccessfully lobby UK Prime Minister Theresa May.
"Many people would like to see @Nigel_Farage represent Great Britain as their Ambassador to the United States," Trump tweeted. "He would do a great job!"
BBC North America editor Jon Sopel called it "an extraordinary intervention" that would cause undue strains between the allies, while complicating the work of the actual UK ambassador, Sir Kim Darroch.
Foreign Secretary Boris Johnson attempted to defuse the tension during remarks in parliament.
"We have a first-rate ambassador in Washington doing a very good job of relating both with the present administration and with the administration to be, and there is no vacancy for that position," he said.