This is an archived article and the information in the article may be outdated. Please look at the time stamp on the story to see when it was last updated.
Moore, Okla. (KTLA) – President Barack Obama toured parts of Oklahoma on Sunday, to view the devastation left by last week's deadly tornado.
The president praised local officials, first responders and teachers for their work in the wake of the storms, which killed 24 people, and damaged 12,000 homes.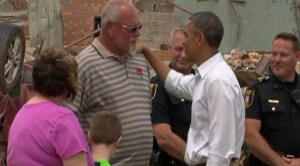 Mr. Obama described himself as a messenger speaking on behalf of the entire nation, and told those affected they are not alone.
"As fellow Americans, we're going to be there as shelter from the storm for the people of Moore who have been impacted," he said.
"And when we say that we've got your back, I promise you that we keep our word."
In addition to the 24 people killed in Monday's massive twister, two others died elsewhere in the state in storms, the Oklahoma Department of Emergency Management said.
"All people thought missing have been accounted for at this time," Governor Mary Fallin said.
In all, 377 people were treated for injuries as a result of the storms, the Department of Emergency Management said.