This is an archived article and the information in the article may be outdated. Please look at the time stamp on the story to see when it was last updated.
President Trump took aim at the United States Postal Service on Friday, admonishing the service for its financial losses and for failing to charge more.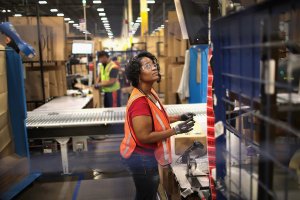 "Why is the United States Post Office, which is losing many billions of dollars a year, while charging Amazon and others so little to deliver their packages, making Amazon richer and the Post Office dumber and poorer? Should be charging MUCH MORE!" the president wrote on Twitter.
Amazon stock fell 6.1% in the hours following the tweet. A representative of the postal service did not immediately respond to a request for comment.
It is unclear why the president chose Friday to lash out at the postal service. The agency last reported its earnings on Nov. 17. During its 2017 fiscal year, spanning Oct. 1, 2016 to Sept. 30, 2017, the USPS recorded $69.6 billion in revenue, a decrease of $1.8 billion from the previous year. The postal service reported a net loss of $2.7 billion, a decrease in net loss of $2.8 billion compared with 2016.
Read the full story on LATimes.com.