This is an archived article and the information in the article may be outdated. Please look at the time stamp on the story to see when it was last updated.
A pro-weed organization is handing out 4,200 free joints in Washington's Dupont Circle on Inauguration Day.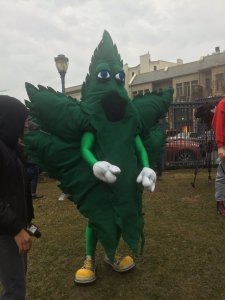 DCMJ — an organization that worked to pass Initiative 71, which legalized marijuana in Washington — is passing out up to two ounces of marijuana.
"We're defending our initiative against the federal government because we're concerned that (attorney general nominee) Jeff Sessions will try to overturn our local laws here," DCMJ founder Adam Eidinger told CNN earlier this month. "We're being proactive to share marijuana, which is our right, before it's too late. We also want to educate Trump supporters that we can do this legally."
Protesters who are willing are also planning to light their joint on the National Mall four minutes and 20 seconds into Trump's presidency (420 is a code-term that refers to the consumption of weed).
Eidinger is warning protestors who plan to smoke that it's illegal to do so on that property — and are risking arrest.
Still, lines for the free marijuana stretched for blocks ahead of the inauguration ceremony, video from the scene showed.
A pro-weed group is handing out 4,200 free joints in Washington, DC on #InaugurationDay https://t.co/cKuWWuofhi pic.twitter.com/Gi7HMLR8yf

— CNN (@CNN) January 20, 2017