This is an archived article and the information in the article may be outdated. Please look at the time stamp on the story to see when it was last updated.
Protesters gathered in cities across the United States, including Los Angeles, on Saturday to complain about President Donald Trump's immigration policies and more protests are scheduled for Sunday.
This was the second weekend of demonstrations across the nation, with more than 1 million people coming out last weekend for the Women's March.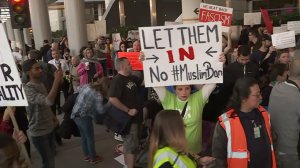 A candlelight vigil and protest was held at the Tom Bradley Terminal of Los Angeles International Airport on Saturday evening to demonstrate solidarity for Muslim immigrants and refugees being detained at airports following the announcement of Trump's travel ban of citizens from seven countries. A federal judge in New York Saturday blocked deportations under the president's ban.
At least seven people were being detained at the airport because of the controversial order, the Los Angeles Times reported, citing the American Civil Liberties Union. All of the detainees held at LAX have green cards or visas, according to the newspaper.
The event was organized by the SEIU, and Los Angeles-area legislators Jimmy Gomez, Reggie Jones-Sawyer, Cristina Garcia and Miguel Santiago were expected to join.
"The SEIU in California is among the organizations leading a defiant resistance to Trump's racist, sexist, and xenophobic agenda," a news release announcing the event read. "Protests in support of immigrants around the nation demonstrate Trump's immoral executive orders are serving only to unite Americans against his hateful and unpatriotic agenda."
Mohammed Alorawi, who was demonstrating at LAX Saturday, said his father was detained while traveling from Iraq to Los Angeles.
"They put him in a room with 30 other passengers and he stayed there for 12 hours and he was sent back home," Alorawi told KTLA.
He explained that his life was threatened several times while he lived in Iraq and it is "impossible for me to go back."
"The only way for me to see my dad is him coming here and that's not possible anymore," Alorawi, who is now a US citizen said.
In a statement Saturday Los Angeles Mayor Eric Garcetti said the city will "always be a place of refuge, where the most vulnerable people fleeing war, or religious or political oppression, can find a safe and welcoming home."
"Congress outlawed the banning of immigrants by nationality more than 50 years ago, because we have long known that it does not make us safer. It only fans the flames of hatred that those who wish us harm seek to spread," Garcetti said.
He encouraged demonstrators to "remain calm, and act lawfully and peacefully," during the planned demonstration at LAX.
"My commitment is to do everything in my power to make certain that any travelers entering our city have the resources and support they need to feel secure and accepted in L.A.," the statement read.
Another protest is planned for Sunday at the airport.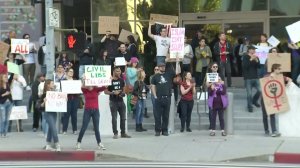 Demonstrators gathered outside the US Citizenship and Immigration Services field office in Los Angeles Saturday, many carrying signs.
Erin Ashby told KTLA she was "terrified" by Trump's new immigration polices.
"The only reason that I can see that we would be banning people from specific countries is we want to ban Muslims entirely," she said.
"I think Trump is running an agenda based on hate and resentment."
Beth traveled from Santa Barbara with her friend Christine Sontag after reading about the demonstration on Twitter. Beth called Trump's new order "unjust and un-American."
Olivia Katbi Smith told CNN affiliate KATU she showed up Saturday at Portand International Airport because she believes Trump's immigration policies are cruel.
"I think it's horrific and terrible and we are basically condemning people to death by not allowing them to come here," she said.
She said the event appeared to be impromptu. She heard about it on Twitter and thinks most people did the same.
In New York City, a large crowd massed at John F. Kennedy International Airport to protest the detention of two Iraqis who were later released.
"Mr. President, look at us," said US Rep. Nydia Velazquez, a New York Democrat. "This is America. What you have done is shameful. It's un-American."
The protesters gathered in Terminal 4 at JFK and carried signs reading, "We are all immigrants!" and "No ban! No wall!"
Several New York officials showed support for the protests.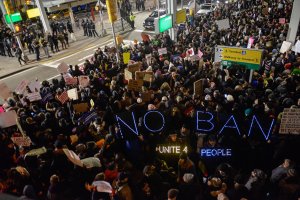 Gov. Andrew Cuomo ordered the Port Authority of New York and New Jersey to reverse an earlier decision to restrict passage aboard the JFK Airport AirTrain to ticketed passengers and airport employees only. He also instructed state police and the Metropolitan Transportation Authority to assist with security and transportation for protesters.
"The people of New York will have their voices heard," Cuomo said.
New York Mayor Bill de Blasio tweeted: "What's happening at JFK is shameful. @NYCImmigrants Affairs Commissioner Nisha Agarwal is on the ground now working to help."
One of the detained men, Hameed Khalid Darweesh, was released early Saturday afternoon. He worked with the US government for 10 years after the United States invaded Iraq.
The other detained man, Haider Sameer Abdulkaleq Alshawi, had been granted a visa to join his wife, who worked for a US contractor in Iraq, and son, both of whom already live in the United States as refugees. Alshawi was released later Saturday.
Rep. Jerrold Nadler, another Democrat from New York, said 10 other travelers were detained, but their status was unclear Saturday night.
Virginia Gov. Terry McAuliffe joined protesters at Dulles International Airport outside Washington.
"This executive order is antithetical to the values that make America great, and it will make our country less safe," he said in a statement.
In Portland, one demonstrator carried a sign that said, "Portland coffee comes from Yemen," one of the seven Muslim-majority nations on the no-travel list.
Lucia Martinez told KATU she used to be a "hashtag activist" but felt compelled to protest at the airport.
"This was the last straw," she said of Trump's policies. "We're all immigrants."
A group of community activists, attorneys and others gathered at O'Hare International Airport in Chicago.
Protests also took place at airports in Newark, New Jersey; Boston; San Francisco; Denver, Colorado; and Dallas.
Protests are scheduled Sunday in Orlando, Boston, Philadelphia, Atlanta, Seattle, Washington and Chicago, mostly at airports.
Lots of people were talking about the importance of different groups coming together at Trump EO protest outside USCIS building in LA pic.twitter.com/hEJYky2k1o

— Adolfo Flores (@aflores) January 29, 2017
Crowds at LAX chanting "Let them in!" Protest against refugee ban is growing. pic.twitter.com/tXMmnIJbVP

— Alene Tchekmedyian (@AleneTchek) January 29, 2017