This is an archived article and the information in the article may be outdated. Please look at the time stamp on the story to see when it was last updated.
Moscow (CNN) — Russia's president is fighting back: No, he did not steal a Super Bowl ring. And no, he's not rocking the diamond-encrusted prize on his finger, either.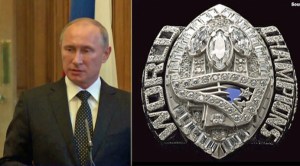 President Vladimir Putin's spokesman denied that the leader kept a Super Bowl ring that New England Patriots' owner Robert Kraft wanted back.
Both sides agree that the ring, with its 124 diamonds, changed hands during Kraft's visit to St. Petersburg, Russia, in 2005.
The New York Post reported on remarks made by Kraft, 72, at a New York awards gala Thursday.
Click here to read the full story on CNN.com.