This is an archived article and the information in the article may be outdated. Please look at the time stamp on the story to see when it was last updated.
PLANO, TX (KTLA) — Country singer Randy Travis suffered a stroke Wednesday and underwent surgery to relieve pressure on his brain, his publicist said.
The stroke was "a complication of his congestive heart failure" for which he was being treated at The Heart Hospital at Baylor Plano in Texas, Kirt Webster said.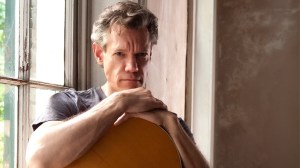 Travis, 54, was admitted to Baylor Medical Center on Sunday because of complications related to his "recently acquired viral cardiomyopathy," Webster said in a written statement.
On Tuesday, Webster denied reports the singer had heart surgery.
"Travis underwent the placement of an Impella peripheral left ventricular assist device for stabilization prior to transferring hospitals," Webster said.
The Mayo Clinic's website described the device as "an implantable mechanical pump that helps pump blood from the lower chambers of your heart to the rest of your body."
Travis had recently been on the road, with shows last month in Detroit and Chicago.
He was scheduled to perform Wednesday in South Dakota and appeared to be feeling well on Friday and Saturday.
"Then on Sunday, it hit him," Webster said.
Viral cardiomyopathy weakens the muscles of the heart, causing the heart to beat slower and even stop.
Travis, who pleaded guilty to a charge of driving while intoxicated in Texas earlier this year, was hospitalized in 2012 after a fight near a church in Plano, Texas.
As one of country music's top-selling artist, Travis owns seven Grammys, 10 Academy of Country Music awards and 10 American Music Award statuettes.
His song "Three Wooden Crosses" won song of the year in 2003 from both the Country Music Association and the Academy of Country Music.
His best-known songs also include "Forever and Ever, Amen," "Diggin' Up Bones" and "Deeper Than the Holler."
CNN contributed to this story.