This is an archived article and the information in the article may be outdated. Please look at the time stamp on the story to see when it was last updated.
Rapper Young Thug and two other men were arrested on multiple charges of drug possession — for substances including marijuana, Xanax, codeine and Ecstasy  — after police in Georgia pulled him over for having car windows that are too darkly tinted.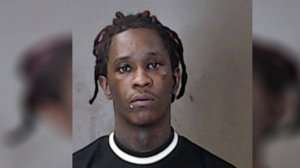 Young Thug and the other men, Jeffery Lamar Williams and Cedric Jones, were also arrested on a charge of possession of a firearm.
The rapper, whose birth name is Jeffrey Lamar Williams, was pulled over by police in Brookhaven, Georgia as he drove his 2016 Mercedes Benz Maybach. An officer noticed his window tint seemed to be darker than the legal 32 percent.
According to a police report, the officer searched the vehicle and located several items of narcotics and pills, liquid codeine, as well as two firearms and a large amount of U.S. currency.