This is an archived article and the information in the article may be outdated. Please look at the time stamp on the story to see when it was last updated.
Toys R Us is planning to honor its gift cards for a short period of time as the retailer prepares to close all of its almost 735 U.S. stores in the coming weeks.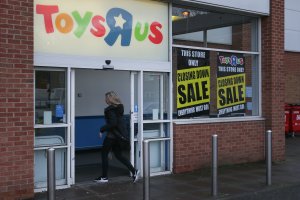 Nicole Hayes, a spokeswoman for Toys R Us, confirmed a USA Today report that the cards will continue to be accepted for the next 30 days.
The newspaper suggested using the cards as quickly as possible however, since little will be left to purchase after a few weeks of liquidation sales.
The closure of the iconic retailer marks the end of 70 years in business and puts about 33,000 U.S. jobs at risk.
At the time of its bankruptcy, Toys R Us disclosed it had about $5 billion in debt and was spending about $400 million a year just to pay for it.
The announcement marks the end for a company that sold toys to millions of American kids.
Legions of adults who came of age in the 1980s and 1990s can probably still whistle its jingle: "I'm a Toys 'R' Us kid."