This is an archived article and the information in the article may be outdated. Please look at the time stamp on the story to see when it was last updated.
Richard Spencer is one of the country's most prominent white nationalists. He's also a terrible bookkeeper.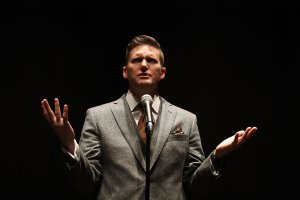 For the second time this year, the state officials in Virginia who regulate nonprofits have rebuked Spencer's far-right think tank for failing to register to solicit donations.
Fundraising without such registration is illegal in Virginia. As of Thursday, Spencer's National Policy Institute website continued to solicit donations, asking they be sent to a P.O. box in Alexandria, Va., where the tiny organization is based.
Like other white nationalists, Spencer uses the mail because over the last year Silicon Valley tech companies have denied far-right figures access to popular crowdfunding websites.