This is an archived article and the information in the article may be outdated. Please look at the time stamp on the story to see when it was last updated.
Hundreds of rowdy University of Kentucky fans took to the streets of Lexington on Saturday night after the Wildcats lost to the University of Wisconsin Badgers, 71 to 64, in the Final Four round of the NCAA men's basketball tournament.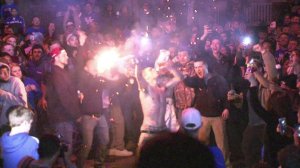 Several small fires were ignited during the unruliness, which broke out after the Wildcats' seasonlong win-streak was broken.
"Obviously everybody here wanted Kentucky to win, but they lost, man," a witness told WLEX. "There's nothing much to say. This place is crazy. They're rioting."
Thirty-one people were arrested and three were transported to hospitals, authorities said.
"Seeing a scene like this just shows how passionate UK fans are," one fan said.
Another was already looking to the 2015-16 season.
"Next year's a new year and we're going to come back stronger than ever. Alright?" he said. "Coach (Calipari), keep on for you guys. Keep on."