This is an archived article and the information in the article may be outdated. Please look at the time stamp on the story to see when it was last updated.
A multi-state salmonella outbreak that left one person dead and 284 sickened has been linked to cucumbers grown in Mexico and distributed in the United States, health officials announced Friday.
Since July 3, reported salmonella infections have resulted in the hospitalization of 53 people in 27 states and one death in California, according to a news release from the Centers for Disease Control and Prevention.
Fifty-four percent of the sick patients were younger than 18, the statement said.
Lab tests and other investigations identified cucumbers distributed by San Diego-based Andrew Williamson Fresh Produce as the "likely source of the infections in this outbreak," the CDC said on its website.
The company on Friday voluntarily recalled all cucumbers sold under the "Limited Edition" brand label between Aug. 1 and Thursday, according to the federal agency. The labeling on such cases indicated the vegetables were grown and packed by Rancho Don Juanito in Mexico.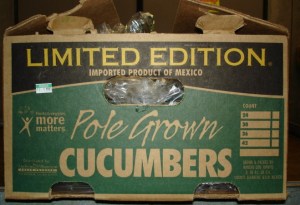 However, officials warned that cucumbers in grocery stores were unlikely to be labeled with identifying brand information.
The San Diego County Health and Human Services Agency said its officials isolated salmonella from cucumbers collected during a visit to the Andrew & Williamson facility. The site is less than a mile from the international border.
According to a statement from the California Department of Health, 51 people in 17 counties across the state were reported to be ill from the salmonella outbreak.
No domestically produced cucumbers were believed to be involved in the infections, health officials said.
Symptoms of salmonella include fever, abdominal cramps, and diarrhea which may be bloody, the Department of Health said, adding that most infected people recover within a week.