This is an archived article and the information in the article may be outdated. Please look at the time stamp on the story to see when it was last updated.
A controversial painting that depicts police officers as animals was removed Friday from a Capitol Hill wall by Rep. Duncan Hunter (R-Alpine) following complaints that it was offensive.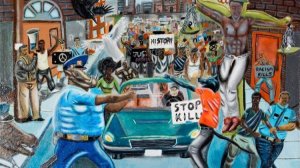 Joe Kasper, chief of staff for the congressman, said Hunter personally took down the painting and delivered it to the Washington office of Rep. William Lacy Clay (D-Mo.), who had sponsored the student competition won by the painting's creator.
"It made a very strong statement today, and there's been an outpouring of support," Kasper said of his boss' action.
Law enforcement agencies had called for the painting's removal, and several officers came to Hunter's office Friday to thank him, Kasper said. The Peace Officers Research Assn. of California and the Fraternal Order of Police also put out statements in support of Hunter, he said.
Click here to read the full story on LATimes.com.