This is an archived article and the information in the article may be outdated. Please look at the time stamp on the story to see when it was last updated.
Officials at a school district where a shooting occurred Friday sent a letter to parents and staff in the wake of the Parkland shooting detailing their security measures.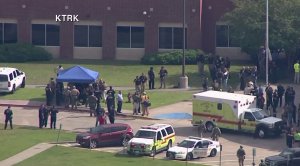 The Santa Fe Independent School District sent the letter on Feb. 16, two days after 17 people were killed at Marjory Stoneman Douglas High School.
On Friday, a shooter or shooters opened fire at Santa Fe High School southeast of Houston, killing up to 10 people. Two people, believed to be students, were detained.
"As we reflect over the disturbing event and tragic loss of lives in the Florida High School this week, our hearts are extended to the families and loved ones of the many individuals affected," the February letter from the superintendent, Leigh Wall, reads. "We are sensitive to concerns surrounding school safety and want to reassure you of the preparedness of our students and staff regarding our district Crisis Management Plan and the safety measures that are in place in the Santa Fe ISD."
The letter goes on the detail safety measures throughout the district, which includes two elementary schools, a junior high and Santa Fe High School. The measures include visitor tracking systems, security vestibule entrances, security cameras and an emergency warning and announcement system.
The district has seven full time and five part time officers "all trained in current nationally standardized protocols to respond to emergency and active shooter situations," the letter states. All employees of the district participate in drills throughout the year.
The letter ends with a reminder to parents and students to report safety concerns to the school district's police department.
After the shooting Friday, Wall wrote in a statement that the district experienced an "unthinkable tragedy."
"We are grieving the loss of members of our SFISD family," Friday's statement reads.  "We have received an outpouring of support from across the state, and we appreciate your continued prayers for our students, staff and community."