This is an archived article and the information in the article may be outdated. Please look at the time stamp on the story to see when it was last updated.
A section of Interstate 85, a major north-south artery for the Southeast, collapsed Thursday evening in north Atlanta after a massive fire, officials said
All lanes of the highway were blocked and will be closed for the foreseeable future, officials said.
That prospect sent shudders through metro Atlanta commuters, who already contend with heavy traffic.
The bridge collapsed about 7 p.m. as crews were battling the massive fire. No injuries were reported. It's unclear what caused the fire, the Atlanta Fire Department said.
Gov. Nathan Deal told reporters the company that originally built the elevated highway would assess the damage.
"It's going to take some time to get it repaired and to get it back in service," he said, without offering a time frame for reopening.
The fire occurred near the city's busy Piedmont Road and just south of Ga. 400, another commuter expressway.
CNN's Eliott C. McLaughlin was driving north on I-85 during evening rush hour when he saw black smoke rising from underneath the elevated highway.
Cars getting off at an exit started slowing more quickly than a normal rate and some cars pulled off onto the shoulder.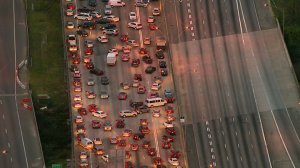 But many cars on the left side of the five-lane section barreled through the thick black smoke. They disappeared into the darkness as they drove on, he said.
McLaughlin slowly followed the taillights of an SUV through the smoke. After about 50 yards, McLaughlin could see clearly again. It smelled like an engine fire, he said.
The smoke blew over a nearby shopping center and had a pungent smell of fuel, CNN's Joe Sutton said.