This is an archived article and the information in the article may be outdated. Please look at the time stamp on the story to see when it was last updated.
Twenty-two years after her tragic death, legendary Tejano singer Selena Quintanilla received a star on the Hollywood Walk of Fame during a ceremony with her family, Los Angeles Mayor Eric Garcetti and actress Eva Longoria on Friday.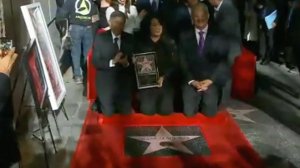 The ceremony took place at 6:30 p.m. in the 1700 block of Vine Street, in front of the historic Capitol Records building.
"Selena said the goal isn't to live forever, but to create something that will. I think tonight is a perfect testament of that," the singer's sister, Suzette Quintanilla, said before the star was unveiled.
Longoria said she had Selena to thank for giving Latinas a place in American pop culture.
"Someone like me did not exist in American mainstream. That changed with Selena. She changed the landscape of music entertainment," Longoria, who is from Selena's hometown of Corpus Christi, said.
"She straddled the hyphen of what it meant to be as American as apple pie, and as Mexican as enchiladas … She gave me an identity, but not only to me, to an entire community. She made a path when there wasn't one," Longoria said.
She added that Selena's voice "was the key that unlocked the hearts and minds of millions."
Garcetti delivered remarks peppered in Spanish, saying that Selena and her family are angels who will now be represented in the city of angels.
"Selena spoke the universal language of love," the mayor said. He added, in Spanish, that Selena "is here and she is not going anywhere."
"See you in our dreams, Selena," he said.
The family was also presented with commemorative plaques of Selena's seven platinum albums by the president of Universal Music Latin Entertainment.
As fans chanted "Selena," the singer's family and former bandmates posed with the star. Chris Perez, the guitarist who Selena fell in love with and married, laid flowers on top of the star.
Just days ahead of Friday's ceremony, the Walk of Fame's YouTube account posted a video of Suzette Quintanilla, helping make the coveted star in Hollywood.
Selena would be 47 if she was still alive today, but the legacy she's left behind is still held dear by family, friends and her fans, as her sister told Entertainment Weekly in a 2015 interview.
"Although it's been 20 years since she died, we're fortunate that the public and the fans still care so much for Selena. That means so much to me and my family," Suzette said. "It's wonderful that she's become such a positive role model for us Latinas."
Perez announced  he was going to the ceremony in an Instagram post on Oct. 25.
"Had to stop by, give a kiss, and say, 'I'll see you tomorrow,'" he captioned another Instagram post of the concealed star on Thursday.
A year after the release of her hit single "Bidi Bidi Bom Bom," Selena was at the height of stardom when she was tragically shot in the back and killed by a former employee, Yolanda Saldivar, on March 31, 1995.
She was just 23.
Two years later, the Warner Bros. Pictures film "Selena" told the story of her life, and since then, a loyal following of fans has secured her a special place in pop culture.
Last year, hundreds gathered outside the Madame Tussauds Hollywood for the unveiling of a wax figure of Selena. At the time, a fan named Gloria Rodriguez, who got in line a day early, told KTLA she had to save a spot for her daughter.
"I named my second daughter after Selena, and she's been imitating her since she was 5 years old," she said.
The anniversary of the singer's first studio album, "Selena," was commemorated with a Google Doodle earlier this month — a decision inspired by the global marketing lead for Google Doodles, Perla Campos.
Campos, who was project manager for the Selena Quintanilla Google Doodle, told Billboard she idolized the iconic Latina singer as a child.
"I grew up as the daughter of a Mexican immigrant single mom living in a small (primarily white) town outside of Fort Worth, Texas," Campos said. "There were always two women who taught me I could do anything and be anything I set my mind to: my mom and Selena. Selena has been a part of my life for as long as I can remember."