This is an archived article and the information in the article may be outdated. Please look at the time stamp on the story to see when it was last updated.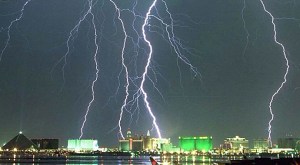 LAS VEGAS (KTLA) — Severe thunderstorms brought lightning, 70 mph wind gusts and significant amounts of rain to the Las Vegas valley Friday.
The high winds and lightning strikes knocked down trees and power-lines, resulting in scattered power outages across the area.
As of 11 p.m. 33,000 customers were without power.
There were also reports of flash flooding.