This is an archived article and the information in the article may be outdated. Please look at the time stamp on the story to see when it was last updated.
The FBI has joined the intense search for a 3-year-old girl who mysteriously vanished from her family's North Carolina home in the middle of the night and has been missing since Monday.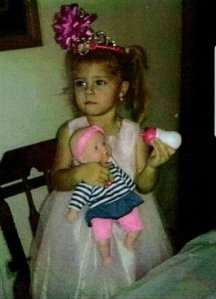 Mariah Woods was last seen around 11 p.m. Sunday night, when her mother checked on the little girl after putting her to bed in their Jacksonville, North Carolina, home, authorities said.
The mother, Kristy Woods, told television station WNCT in Greenville that she woke up Monday and discovered her daughter wasn't in her room anymore. Woods and her-live in boyfriend immediately contacted authorities.
The child was reported missing around 6 a.m., according to the Onslow County Sheriff's Office.
There was no signs of a break-in, but the back door wasn't locked, WNCT reported, citing Mariah's relatives. Her two older brothers were home at the time of Mariah's disappearance and are safe.
The girl's grandmother also told the station she could not imagine the child wandering off because she has walking issues.
Authorities are using drones and helicopters as they search for the toddler by ground and air, according to the station. But by Tuesday night, there was still no sign of Mariah.
In an interview with WNCT, Woods issued a desperate plea for her daughter's safe return.
"'I'll do anything that I can, whatever you want," she said, holding back tears. "Just bring her home please, safe and sound. She's my baby. She's my everything."
The Sheriff's Office contacted Alex Woods, the girl's biological father, but his daughter was not with him, CBS News reported.
The father told Greenville-area television station WCTI  that he hasn't seen Mariah or her brothers since 2016, and he wasn't even aware his daughter was missing until the Amber Alert was issued Monday morning.
He added that he doesn't believe she was kidnapped.
"Someone just walked right up in there, grabbed the 3-year-old out of the bed and she didn't cry, she didn't scream?" Alex Woods told WCTI. "Nobody heard anything? Four people in the house, two adults and two kids, someone just comes up and snatches the baby and walks out?"
Mariah Woods, who turned 3 about 3 weeks ago, is described as a white, 2 feet 9 inches tall, about 30 pounds, with brown hair and blue eyes, according to the FBI. A description of what she may be wearing wasn't provided.
Anyone who sees the girl or has information about the case is urged to call the FBI's Charlotte Field Office at 704-672-6100 or the Onslow County Sheriff's Office at 910-455-3113.