This is an archived article and the information in the article may be outdated. Please look at the time stamp on the story to see when it was last updated.
A week of simmering tensions boiled over in Ferguson as gunfire and tear gas flew through the air and autopsy results show Michael Brown was shot six times.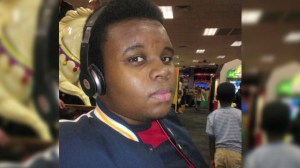 "A Sunday that started with prayers … took a very different turn after dark," said Missouri State Police Capt. Ron Johnson.
This was "pre-planned agitation," not civil disobedience, he said.
The overnight violence marked the fiercest clashes yet between police and protesters furious over the death of the unarmed teenager.
Officers fired tear gas into a crowd of hundreds of protesters, including children, who were marching toward a police command post despite an impending midnight curfew.
St. Louis County police said several protesters had thrown Molotov cocktails toward the officers before authorities shot tear gas toward them.
But protester Lisha Williams challenged that narrative.
"That is a lie. It was no fight, it was no shots fired," Williams told CNN late Sunday night. "All we did was march to the command center to fall to our knees and say, 'Don't shoot.' And they started shooting."
The clashes kept escalating, with the St. Charles County sheriff's officials saying shots were fired in their direction.
St. Louis County police said at least two people had been shot in Ferguson, but not by police. The spokesman also said there have been a few reports of looting in the area, but most of the crowds had dispersed after midnight.
Autopsy details
Brown, an unarmed black teenager, was shot dead August 9 by a white police officer. He was shot at least six times, including twice in the head, according to the preliminary results of an autopsy that his family requested.
Family attorney Anthony Gray said the independent autopsy, conducted Sunday, found that Brown was shot twice in the head and four times in the right arm — all to the front of his body.
Last week, the St. Louis County police department said an original autopsy found that Brown, 18, died of gunshot wounds. But the department wouldn't say how many times he was shot or any other details.
According to the preliminary results of the family autopsy, the bullets that struck Brown were not fired from close range, as indicated by the absence of gunpowder residue on his body.
One of the bullets shattered his right eye, traveled through his face, exited his jaw and re-entered his collarbone, according to the autopsy.
The last two shots were likely the ones to his head, attorney Gray said. One entered the top of his Brown's skull, suggesting his head was bent forward when he was struck.
The independent autopsy was conducted by high-profile pathologist Michael Baden. Baden testified in the O.J. Simpson, Phil Spector and Drew Peterson murder trials.
Cousin: Brown killed without reason
The clashes that ensued Sunday night were a far cry from a packed church earlier Sunday, where hundreds of people gathered for a two-hour rally demanding justice for
"I'm astonished at this reversal of mood," Jackson said. "The mood was so positive."
A cousin of Brown told the church audience that Brown was killed without reason.
"What I want y'all to remember is that Michael Brown was not just some young black boy. He was a human being," Ty Pruitt said. "He was not a suspect. He was not an object. He was not an animal. But that's how he was killed."
Michael Brown's parents — Lesley McSpadden and Michael Brown Sr. — appeared on stage at the rally at Greater Grace Church with attorney Benjamin Crump but didn't address the audience.
"What we're really asking for is simple justice," Crump said. "We're not asking for anything extraordinary. They just want what anybody else would want if their children were shot down in broad daylight."
Crump said there would be an independent investigation in addition to the federal and local probes already under way.
Missouri State Highway Patrol Capt. Ron Johnson spoke to the 1,300 people in the congregation and said he had a heavy heart.
"The past 24 hours have been tough for me," said Johnson, who took over security in the town on Thursday after what many saw as an overly aggressive police response by the local authorities. Johnson said he met with members of the Brown family and was moved to tears.
Protests had turned violent on Saturday night as well after a curfew began. One male was shot overnight Saturday, authorities said. It was unclear how old he was or who shot him. The victim was in critical condition Sunday.
Officials said state highway patrol officers didn't fire any shots. They did fire tear gas to get to the wounded victim, Johnson said early Sunday.
A third autopsy
Accounts of exactly what happened when Officer Darren Wilson stopped Brown while the teen was walking down a street vary widely.
Witnesses said they saw a scuffle between the officer and Brown at the police car before the young man was shot. Police said Brown struggled with the officer and reached for his weapon.
Several witnesses said Brown raised his hands and was not attacking the officer.
U.S. Attorney General Eric Holder has approved another autopsy on Brown's body, the Justice Department said. The autopsy will be conducted by a federal medical examiner.
More video: