This is an archived article and the information in the article may be outdated. Please look at the time stamp on the story to see when it was last updated.
Singer-songwriter Sinead O'Connor was found safe after being reported missing in Chicago's northern suburbs earlier Monday.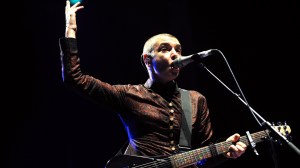 Sources tell KTLA sister station WGN in Chicago that she was located at a nearby hotel, and has been taken to a local hospital.
O'Connor, who is most popular for the 1990 release, "Nothing Compares 2 U" that was written by Prince, went out on a bicycle ride at about 6 a.m. in Wilmette  Sunday and had not been seen since.
What she was doing in Wilmette is still unclear.
O'Connor has had her fair share of troubles in recent years.
Earlier this month, former late night host Arsenio Hall filed suit against her for $5 million claiming defamation after she accused him of supplying Prince with drugs"over the decades" and of drugging her.
In November, O'Connor raised concerns that she might harm herself after she posted a distressed note on her Facebook page saying she had taken an overdose in a hotel room in Ireland. The singer was later found to be safe and taken for medical treatment.