This is an archived article and the information in the article may be outdated. Please look at the time stamp on the story to see when it was last updated.
Two American sisters were found dead without any signs of injuries while vacationing in the island nation of Seychelles this month, local police said.
Robin Korkki, 42, and her sister, Annie Korkki, 37, were found "unresponsive" in their villa on September 22, police spokesman Jean Toussaint told CNN by phone.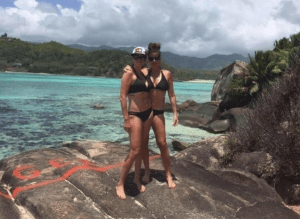 Resort management found them in their room and notified authorities.
"Preliminary examination done by the police on their bodies did not show any signs of violence," Toussaint said.
Seychelles authorities are in contact with the US Embassy there, he said. He declined to provide further information, citing privacy and ongoing investigations.
Calls to the US Embassy in Seychelles went unanswered.
Popular destination
Seychelles, off Africa's east coast, is a popular tourist destination because of its pristine beaches, warm water and coral reefs. The sisters were staying in Mahe, one of 115 islands in the nation.
They arrived in Seychelles on September 15, and were due to leave on September 24, two days after they were found dead, Toussaint said.
'This isn't happening'
Thousands of miles away in the United States, worried relatives are seeking answers.
In Minneapolis, their brother told a local paper that the family is getting no information on the case. Some family members have traveled to the Seychelles to get more details and bring the sisters' bodies home.
"At this point, the only details we know are the articles flying around online," Chris Korkki told the Star Tribune this week. "Two things keep going through my mind: This isn't happening, and we just want answers."
He said his sisters were healthy and adventurous, and loved to "experience life to the fullest."
Robin Korkki was a resident of Chicago while her younger sister lived in Denver.