This is an archived article and the information in the article may be outdated. Please look at the time stamp on the story to see when it was last updated.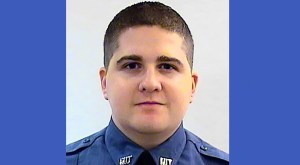 CAMBRIDGE, Mass. — Bagpipes wailed, law enforcement badges were striped in black, and a squadron of state police helicopters flew by as the Massachusetts Institute of Technology and hundreds of officers from around the country paid their respects Wednesday to Sean Collier, one of their own.
At an outdoor memorial service for the 27-year-old campus police officer, Vice President Joe Biden called the brothers accused of killing Collier and detonating the Boston Marathon blasts "two twisted, perverted, cowardly, knock-off jihadis."
By turns somber and defiant, Biden declared that terrorists committed to a "doctrine of hate and oppression" had seen again that the American people "refuse to yield to fear," and he hailed the "incredible heroism" and "resilience" of Boston after the bombings.
Wednesday was a day of remembrance and recovery in the greater Boston area. Boylston Street, where a pair of explosions ripped through the finish-line crowd on April 15, was reopened to vehicles and pedestrians.
Mayor Thomas M. Menino declared that parking along the struggling boulevard and its Back Bay neighborhood would be free through Sunday to entice shoppers and diners to come back and spend.
Fresh concrete poured into the spot where one of the blasts shattered the streetscape dried in the weak sunshine.
A Starbucks store allowed customers to retrieve purses, school bags and cellphones left when patrons fled in panic.
The vice president's wife, Jill Biden, stopped by after Collier's ceremony to leave flowers and add a pair of running shoes to the growing number hanging on police barricades.
And the hospitals that treated those injured by the blasts — which went off about 10 seconds apart — announced some good news: 35 men, women and children remained in their care by afternoon, down from 138 at the peak of the carnage and dropping daily.
Only one was believed to be in critical condition Wednesday, a patient at Boston Medical Center.
Collier was killed a week ago by the suspected perpetrators of the bombing attacks, 19-year-old Dzhokhar Tsarnaev and 26-year-old Tamerlan Tsarnaev.
Tamerlan was killed during the subsequent manhunt. His brother remained in fair condition Wednesday at Beth Israel Deaconess Medical Center, according to the FBI.
The blasts killed three people and wounded more than 260 others.
"We have suffered," Biden said at Wednesday's memorial, his voice booming across Briggs Field in the heart of the urban campus. "We are grieving. But we are not bending. We will not hunker down. We will not be intimidated.
"On every frontier terrorism as a weapon is losing," he added.
"What galls them the most is that America does remain that shining city on the hill. We're a symbol of the hopes and the dreams, of the very aspirations of people all around the world. … Our very existence makes a lie of the perverted ideology."
The service drew thousands to the MIT athletic field, including hundreds of law enforcement personnel from across the country.
There were speeches from university and elected officials and moments of somber silence. Bagpipes swooped from mournful to patriotic, "Amazing Grace" to "You're a Grand Old Flag."
Backed by the MIT Symphony Orchestra, James Taylor sang the wistful "The Water is Wide."
And then, with a university a cappella group, he crooned, "Shower the people you love with love," a line from another of his hits — always topical, but especially on this day.
A giant U.S. flag, waving in the spring breeze, hung from the extended ladders of two Cambridge firetrucks.
The assembled flags of about 100 color guards represented jurisdictions in attendance, one from as far away as Ireland.
Biden told the mourners that no children should die before their parents — a tragedy he noted that he knew all too well, having lost his young daughter more than 40 years ago.
And he described the Boston community, united in pain and resolve, as being just like the one in which he grew up in Scranton, Pa.
"I've known the Colliers my whole life," he said of the dead man's family, "and today's the first day I met them."
Rob Rogers, Collier's brother, said that his sibling would have loved all the trappings of the service, so passionate was he about law enforcement.
"He was born to be a police officer," Rogers said, "and he lived out his dreams."
MIT's president, L. Rafael Reif, read notes that students had offered with memories of Collier, including one who said that out of uniform, the campus officer "could have passed for an MIT student," so well did he blend in with the school's "geeky style."
The university board had voted unanimously Tuesday to make Collier an honorary member of the alumni association.
Because, Reif said, "he truly was one of us."
–Los Angeles Times