This is an archived article and the information in the article may be outdated. Please look at the time stamp on the story to see when it was last updated.
A South Carolina county sheriff posted online that he planned to refuse to follow a presidential order to lower American flags in memory of Nelson Mandela, the South African political icon who died Thursday.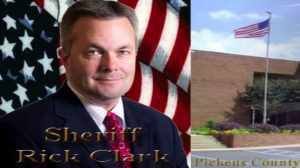 In the order, President Barack Obama asked that all public buildings — including law enforcement offices — fly U.S. flags at half-staff until sunset Monday as a sign of respect for Mandela.
"We will not see the likes of Nelson Mandela again," Obama said in his proclamation. "Let us pause and give thanks for the fact that Nelson Mandela lived — a man who took history in his hands, and bent the arc of the moral universe toward justice."
Rick Clark, the leader of the Pickens County Sheriff's Office, took to Facebook Friday to speak out against the president's proclamation.
"I usually don't post political items, but today is different," his message read.
"Nelson Mandela did great things for his country and was a brave man but he was not an AMERICAN!!! The flag should be lowered at our Embassy in S. Africa, but not here," he continued.
Clark said that his sheriff's office's flag was currently at half-staff to honor a slain deputy — and would remain lowered on Saturday to commemorate Pearl Harbor Day — but he vowed to return it to full height by Sunday.

The sheriff's decision has received mainly positive responses from his friends on his Facebook page.
"Glad to see the right thing done in our county. RICK we appreciate the job you and your people are doing," said one user in a comment.
Shortly after 6 p.m. Pacific Standard Time Friday, Clark addressed some of the comments on the post.
"There will be no negative post on here about President Mandela," Clark wrote in a new comment. "He freed a country and fought for his country and his constituents in many ways and faced horrors we will never know. It is about the people who gave the sacrifice for the USA. Nothing more nothing less."
Pickens County, located in South Carolina's northwest corner, has a population of about 120,000, according to census figures.