This is an archived article and the information in the article may be outdated. Please look at the time stamp on the story to see when it was last updated.
State Sen. Leland Yee (D-San Francisco) was charged Wednesday with conspiring to commit wire fraud and traffic firearms, part of a sweeping public corruption case outlined by federal prosecutors.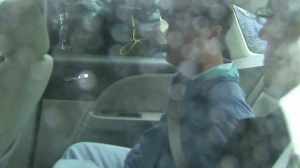 The charges sent shock waves through the San Francisco and Sacramento political establishments, as FBI agents searched Yee's Capitol office. Last year the FBI raided the offices of Sen. Ron Calderon (D-Montebello), who was targeted in a bribery sting.
In all, 26 people, including former school board president Keith Jackson, were indicted on charges related to an extensive crime ring headed by well-known Chinatown figure Raymond Chow, who was also arrested and charged Wednesday.
The indictment alleges Yee and Jackson defrauded "citizens of honest services" and were involved in a scheme to traffic firearms in exchange for thousands in campaign donations to the senator.
Click here to read the full story on LATimes.com.