This is an archived article and the information in the article may be outdated. Please look at the time stamp on the story to see when it was last updated.
The USS John S. McCain suffered a "steering casualty" as the warship was beginning its approach into the Strait of Malacca, near Singapore, causing it to collide with a commercial tanker Monday, a US Navy official told CNN.
The official said it was unclear why the crew couldn't utilize the ship's backup steering systems to maintain control of ship.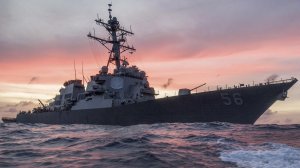 Earlier, another US Navy official had told CNN that early indications were the destroyer experienced a loss of steering right before the collision, but that steering had been eventually regained after the collision.
US Navy 7th Fleet said Tuesday morning that the search for 10 sailors assigned to the ship was ongoing.
"Aircraft from the amphibious assault ship USS America will continue search efforts today for 10 missing sailors assigned to the guided-missile destroyer USS John S. McCain (DDG 56)," a statement said.
Ships and aircraft from Singapore's and Malaysia's navies are involved in the search and efforts focus "on an area east of the Straits of Malacca and Singapore where McCain was involved in a collision with the merchant vessel Alnic MC."
Some 250 personnel from a variety of Singapore agencies were deployed on scene for search and rescue operations, a statement from the Maritime and Port Authority of Singapore said.
Monday's collision was the fourth accident involving a US warship this year. Defense Secretary James Mattis said he supports the decision by Adm. John Richardson, chief of naval operations, to conduct a "comprehensive review" of recent US Navy collisions.
The aim will be "to determine any of the causal factors, to determine what's going on — both immediate contributors to this incident but also any related factors."