This is an archived article and the information in the article may be outdated. Please look at the time stamp on the story to see when it was last updated.
MOORE, Okla. — Pounding rain soaked tornado-ravaged Moore, Oklahoma, on Thursday morning, and winds sent pieces of debris flying, hindering recovery efforts three days after the devastating tornado.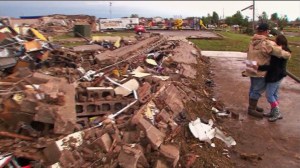 In addition to the 24 people killed in Monday's massive twister, two people died elsewhere in the state in storms Sunday, the Oklahoma Department of Emergency Management said.
"All people thought missing have been accounted for at this time," Gov. Mary Fallin said.
In all, 377 people have been treated for injuries as a result of this week's storms, the Department of Emergency Management said. It did not say how many were injured Monday. Fallin said on Twitter that the 377 were injured in the tornado Monday. However, a hospital in Shawnee, Oklahoma, said it treated 11 people injured in the tornado there Sunday.
Click here to read the full story on CNN.com.