This is an archived article and the information in the article may be outdated. Please look at the time stamp on the story to see when it was last updated.
As bad as it was, the violence unleashed by a gunman this fall at a mall in Washington state could have been substantially worse, police say, if fate and gun laws had not intervened.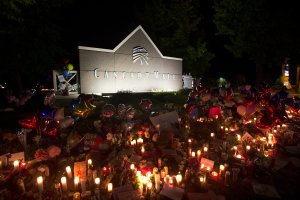 More than 30 moviegoers watching "The Magnificent Seven" in a Burlington mall theater could have been sitting targets had the suspect, a troubled, 20-year-old fast-food worker named Arcan Cetin, been able to buy other firearms that day and enter though a theater exit door he had propped open with his cellphone in what police say was an ambush plan, newly released records show.
The phone's placement brings to mind the bloodshed at a movie theater in Aurora, Colo., in 2012 that left 12 dead and 70 wounded. Gunman James E. Holmes had propped open an exit door in order to retrieve firearms from his car.
"I suspect," said Burlington Police Det. Adrian Kuschnereit, "that this theater room and the people inside of it may have been a planned target for a shooting."
Click here to read the full story on LATimes.com.