This is an archived article and the information in the article may be outdated. Please look at the time stamp on the story to see when it was last updated.
A 24-year-old man has been arrested in Missouri in connection with the killing of a student who had been trying to sell the suspect his car through Craigslist, police said Wednesday.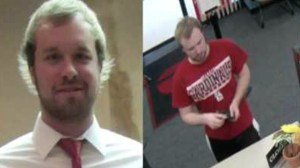 Taylor Clark, a 19-year-old student at Southern Illinois University Edwardsville, was last seen by his girlfriend on Monday morning, CNN affiliate KTVI reported.
His body and car were discovered Tuesday at a truck driver training center in Hazelwood, a suburb of St. Louis.
Capt. Tim Fagan of the Florissant Police Department said Wednesday that officers had arrested Michael Gordon, an employee of the truck driver training center.
Police: Killing perpetrated during lunch break
The two men connected through Craigslist after Clark had listed his car for sale on the site, according to Fagan.
"They were going to meet and the vehicle was going to be test-drove," he said.
But that's not how things played out when the two met during Gordon's lunch break.
"A short time after they met on the parking lot, Taylor was shot one time by Mr. Gordon," Fagan said. The suspect then moved the student's body to a nearby wooded area and tried to cover it up, he added.
Gordon went back to work after the killing, according to police.
The suspect has spoken to investigators, Fagan said, declining to give details. The case is still under investigation.
Student had just finished exams
Clark had finished taking his final exams before he disappeared and had already paid his tuition for the next semester in full, KTVI reported.
"This is a young man who was going to college. He was a good person, a good citizen," said Fagan. "Certainly, he didn't deserve what occurred to him."
Clark's killing is the latest in a series of attacks that have been linked to Craigslist, including the case of a pregnant Colorado woman in which the fetus was cut from her womb.
In January, a Georgia man was charged with murder in the death of a couple who went missing after contacting a car seller on Craigslist.