This is an archived article and the information in the article may be outdated. Please look at the time stamp on the story to see when it was last updated.
WASHINGTON (KTLA) — The Supreme Court on Wednesday overturned the Defense of Marriage Act (DOMA), ruling that same-sex couples who are legally married may receive federal benefits.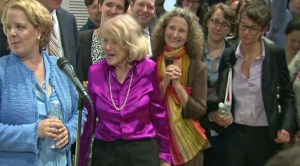 By a 5-4 margin, the justices ruled that the law was unconstitutional becasue it denied gay and lesbian couples equal protection of the laws.
DOMA, passed in 1996, defined marriage for federal purposes as between one man and one woman.
It denied same-sex couples the benefits enjoyed by married heterosexuals with regards to taxes, Social Security, pensions, health insurance and more.
President Barack Obama reacted on Twitter, writing, "Today's DOMA ruling is a historic step forward for #MarriageEquality. #LoveIsLove"
The 84-year-old widow at the center of the case said she cried when she learned of the decision.
"We won everything we had asked and hoped for… Wow," Edith Windsor said.
She launched her lawsuit against the government after she was forced to pay $363,000 in estate taxes following her wife's death.
Windsor said that, if her spouse had been a man, she would not have received the bill from the IRS.
Also on Wednesday, the Supreme Court refused to hear an appeal from the backers of Proposition 8, which banned same-sex unions in California.
The court ruled that they did not have the legal standing to defend the measure after it was struck down by a federal judge in San Francisco.
The decision cleared the way for same-sex marriages to resume in California, likely by the middle of July.