This is an archived article and the information in the article may be outdated. Please look at the time stamp on the story to see when it was last updated.
A 19-year-old surfer suffered bites on his legs during a shark attack in the waters off Montaña de Oro State Park in San Luis Obispo County Tuesday.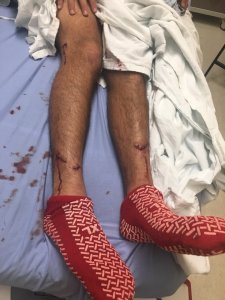 Nick Wapner of Palos Verdes reported the attack at around 10 a.m., saying a 15-foot great white shark clamped down on his ankles and thighs while he was surfing. "Out of nowhere, my feet just get knocked up in the air and all of a sudden, I just feel this weight—a crushing, clamping power on my legs," Wapner told KTLA. "One side of its mouth got both my ankles, and the other side of its mouth got my board and my upper-legs." Wapner said he kicked free of the shark's jaw, which he believed was more than 2 feet wide. "I was able to wiggle one of my legs out and then just furiously kicked it a couple of times and the [shark] let go," Wapner said. After freeing himself from the shark, Wapner said he was pushed to shore by waves, not noticing that he was injured.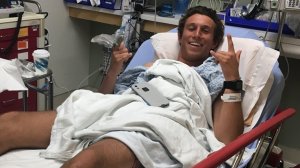 "I had so much adrenaline going, and I thought I got away scot-free, then I look down and saw blood pouring out of my wet suit," Wapner said. The teenager screamed for his friends to help and they went to a hospital. Lying in bed, with bandages on both legs, Wapner pointed to four different wounds. He received about 50 stitches to for his non-life-threatening injuries. "It may have been kind of an exploratory bite, as sharks will sometimes do," Park Ranger Supervisor Robert Colligan told the 
Tribune
 of San Luis Obispo. "The shark might have bitten, and then realized it wasn't what it was looking for and let go." Wapner is a student at California Polytechnic State University in San Luis Obispo. Warning signs have been posted on beaches in the area, 200 miles northwest of Los Angeles. "I'm psyched to still be alive," Wapner said, adding that he will go surfing again once he recovers.