This is an archived article and the information in the article may be outdated. Please look at the time stamp on the story to see when it was last updated.
Micah Xavier Johnson was infuriated, he told police negotiators, by the deaths of black men at the hands of police.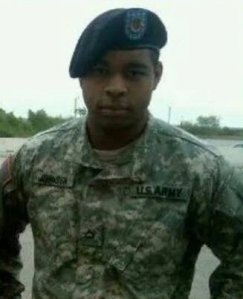 Authorities believe that rage led the reclusive former Army reservist to kill five Dallas police officers and wound seven others, as well as two civilians, and plunge a country reeling from this week's police shootings of two black men deeper into shock and grief.
Johnson, who was killed by a bomb-carrying police robot after failed negotiations, allegedly fired the shots that tore through a peaceful protest against police violence and reignited the simmering national debate about police-community relations and fairness in the criminal justice system, as well as the larger questions on race and gun control.
As President Barack Obama ordered U.S. flags at government buildings and military installations worldwide lowered to half-staff, Attorney General Loretta Lynch called on Americans not to resort to violence. "After the events of this week, Americans across the country are feeling a sense of hopelessness, uncertainty and fear," Lynch said. "The answer must not be violence. The answer is never violence."
The man apparently at the center of the violence in Dallas, meanwhile, remained an enigma. An award-winning soldier, the 25-year-old Johnson was killed early Friday in a parking garage by a bomb-carrying police robot after an hours-long standoff with law enforcement that included an exchange of gunfire.
Federal law enforcement officials believe Johnson was the only shooter in the ambush, according to law enforcement officials briefed by the Dallas police. But authorities are questioning three other suspects who may shed light on the attack and on Johnson himself, Dallas Police Chief David Brown said Friday.
Johnson had no criminal record and no known terror ties, a law enforcement official said. Brown told reporters that in an exchange with police before his death, Johnson said he was acting alone and had no ties to terror groups.
The gunman also said "he wanted to kill officers, and he expressed killing white people, he expressed killing white officers" and "expressed anger for Black Lives Matter," the chief said.
"None of that makes sense, none of that is a legitimate reason to do harm to anyone, so the rest of it would just be speculating on what his motivations were. We just know what he said to our negotiators."
Johnson took up arms days after videos surfaced of fatal police encounters with black men in Louisiana and Minnesota — events that ricocheted through social media and prompted reaction from the highest levels of government.
Alton Sterling, 37, was killed July 5 when police responded to reports of a man with a gun in front of a convenience store in Baton Rouge. Cell phone video shows two officers pin Sterling to the ground amid a scuffle, and he's eventually shot by one of them.
A day later, Philando Castile — a 32-year-old school cafeteria supervisor — was shot multiple times by an officer who had pulled him over for a traffic stop. Castile's fiancée used her phone to live-stream the aftermath of the shooting from the passenger seat while her daughter sat in the back.
A friend of Johnson's said the former Army reservist "was just as upset as any other black man in America, but nothing pointed to this extreme when we spoke." This friend, a classmate of Johnson's from John Horn High School in Mesquite, Texas, who asked to speak anonymously, said he last saw Johnson about a year ago and that the reservist "loved his country."
While "he chose the wrong actions," Johnson "wanted justice and equality for blacks," said the friend.
Friends from Johnson's past spoke of their shock at the news and a sense of disconnect as they tried to align the horrific news reports with their memories of a man they described as a sunny, joking presence.
"The person that I knew was a sweet-hearted person, he always had a smile on his face and his smile would light up a room," said TJ Holley, a childhood friend from Mesquite. Like other friends, Holley said he was sure the root of Johnson's problems lay in his military experience, which included a deployment to Afghanistan.
"I don't know what he saw or what happened over there," Holley said, "but I think the military is one of the reasons why he did what he did and why he acted out the way he did."
Another friend described Johnson as a "normal, goofy, fun-loving guy" and said "I have a hard time believing this is the same person I knew." This friend, who asked to remain anonymous, also raised the possibility that Johnson's time in the Army changed him.
"I don't know if something happened after that that may have changed him," this friend said. "I don't know who this latest Micah was, but that's not the person I knew."
An ROTC classmate of Johnson's called him a "jokester," adding that "he likes guns and things, but he wasn't a violent person. He was more of a person who was there for anybody."
Another friend said that Johnson had been posting a lot on Facebook about African-American deaths at the hands of police officers, "but nothing that would indicate any strange behavior."
Footage of the large gray brick house where Johnson lived with his mother in Mesquite suggested a middle-class life. Wayne Bynoe, a neighbor of Johnson's, told CNN that police cars were parked outside Johnson's home Friday. Johnson "keeps to himself," Bynoe said, adding that he'd become more withdrawn after a tour of duty in Afghanistan.
Johnson's classmate at John Horn HighSchool countered that description, saying that he had been a "fun-loving guy who liked to have a good time." The friend said Johnson never threatened to kill anyone, and "would tell stories about being in the military, but didn't seem depressed or anything."
But Dallas police said Friday that a search of Johnson's residence turned up bomb-making materials, ballistic vests, rifles, ammunition, and a personal journal of combat tactics." Investigators were analyzing the journal's contents, a police statement said.
Johnson had been trained in the Army Reserve as a carpentry and masonry specialist, two U.S. defense officials told CNN. As a private first class, Johnson would have received basic weapons training, but it's unclear whether he would have received instruction in advanced shooting skills beyond the basics that every soldier gets.
Johnson did his tour in Afghanistan from September 2013 to August 2014 as part of Operation Enduring Freedom after a serving from 2009 to 2014 with an engineering brigade in Seagoville, Texas. He returned to that engineering unit from August 2014 to April 2015, according to his military records, which also show that he earned distinction for his service.
Johnson was honored with an Afghanistan Campaign Medal with a campaign star, an Army Achievement Medal, a National Defense Service Medal, a Global War on Terrorism Service Medal, an Army Service Ribbon, an Armed Forces Reserve Medal and a NATO Medal, CNN's Barbara Starr reported.
His military service record is now being sent to law enforcement, Starr said.
The owner of a martial arts academy says Johnson took self-defense classes at his facility. Justin Everman, owner of the Academy of Combative Warrior Arts in Richardson, Texas, said he believes Johnson took a course there around 2014.
Johnson, "never said anything about himself when I knew him," Everman said. "I know he went overseas, and that was the last we knew about him." He said he had not spoken with Johnson in years.
Johnson's Facebook page contains multiple references to black empowerment. His cover photo is the Pan-African or Black Liberation flag, and his profile picture shows him dressed in a West African shirt called a dashiki, with an upraised fist. Another photo shows a man dressed in military fatigues and a helmet, seeming to point a gun at the camera. A third photo shows Johnson in dress uniform.
Other photos on his page include the iconic image of a clenched fist with the caption "Black Power," another is a photo with Professor Griff of the band Public Enemy. Johnson also "liked" many groups related to African-American issues and black empowerment, such as the New Black Panthers, I Love Black Archaeologist, which posted on its Facebook page, "It seems that the police have been trying to motivate black people to do what happened in Dallas yesterday for years now."
Another group is the African American Defense League, which has a posting that calls for violence, saying, "WE ARE CALLING ON THE GANGS ACROSS THE NATION! ATTACK EVERYTHING IN BLUE EXCEPT THE MAIL MAN, UNLESS HE IS CARRYING MORE THAN MAIL!" In addition, Johnson "liked" multiple celebrity pages and the pages of several law enforcement agencies, including the Dallas Police Department, Arlington Police Department and Maricopa County Sheriff's Office in Arizona.
Activists stressed that Johnson didn't represent them. "His conduct is not indicative of the conduct of the majority of activists" around the country who are looking for equal treatment from the police, Nekima Levy-Pounds, president of the Minneapolis NAACP, told CNN.
On Capitol Hill, members of the Black Congressional Caucus echoed that point. Rep. G.K. Butterfield, D-North Carolina, called Johnson a "terrorist and not part of Black Lives Matter."