This is an archived article and the information in the article may be outdated. Please look at the time stamp on the story to see when it was last updated.
Ahmad Khan Rahimi, accused of injuring 29 people by setting off bombs in New York and New Jersey in September, was charged Wednesday in New Jersey and Manhattan.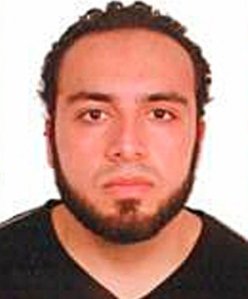 Rahimi, who was wounded in a shootout with police before being arrested, faces eight federal counts, including the use of a weapon of mass destruction, bombing a place of public use and destroying property by means of fire or explosive, according to a statement from U.S. Attorney Preet Bharara for the Southern District of New York.
"Two months ago, Ahmad Khan Rahimi allegedly planted bombs in the heart of Manhattan and in New Jersey," said Bharara. "Now indicted by a grand jury, Rahimi will face justice in a federal court for his alleged violent acts of terrorism."
Rahimi also was indicted on 30 counts in a New Jersey state court, including five counts of first-degree attempted murder of a law enforcement officer and multiple counts of second-, third- and fourth-degree aggravated assault, two second-degree weapons offenses, and fourth-degree possession of a high-capacity magazine, according to a statement from the Union County prosecutor's office.
The statement said bail for Rahimi was set at $5.2 million by Superior Court Judge Regina Caulfield. A first appearance in the case was held via video conference last month, and Rahimi appeared in federal court for the first time last week.
Rahimi has previously pleaded not guilty to New Jersey charges.
Authorities said Rahimi detonated bombs the morning of Sept. 17 near the start of a Marine Corps charity run in Seaside Park, New Jersey, and that night in New York's Chelsea neighborhood. An unexploded pressure cooker bomb was found several blocks away from the site of the Chelsea blast. On Sept. 19, Rahimi engaged in an exchange of gunfire with Linden police, allegedly shooting a police officer before being shot by police at the scene.
Attorneys for Rahimi were granted a postponement for his hearing that was scheduled for Wednesday. They said they have yet to receive his medical records from the hospital and the prison that treated him in New Jersey. "Without those records, we cannot fully assess the propriety of the care he is receiving," a letter from the defense attorneys to the United States magistrate judge said.
CNN left messages with Rahimi's attorneys.
Rahimi will be arraigned before U.S. District Judge Richard Berman on Thursday.